At Hartford Technologies, we manufacture a range or precision pins and rollers that are cylindrical in shape, including dowel pins, knurled pins and pivot pins. Some customers require special ends on pins. One of the more popular end configurations is a spherical end. Applications for these include bearings, steering locking mechanisms, or even locating pins when a simple chamfer or large end radius will not suffice. Below we take a closer look at spherical end pins and how they're made.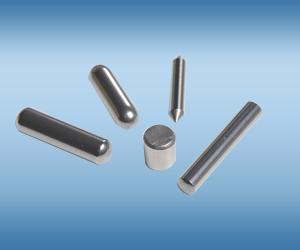 Characteristics of Spherical End Pins
Bearing grade 52100 (GCr15) is the most common material used for hardened pins. These pins can be used anywhere higher hardness or strength is required. 440C stainless steel can also be used if there are corrosion concerns and high hardness is still required. At Hartford, we can also manufacture these pins in soft 300 series stainless steel if desired. Diameters can range from 1mm to 25.4mm and length can range from 3mm to 75mm. Spherical pins can hold a tolerance of +/- 0.05mm on spherical radius.
Manufacturing Spherical Pins
The manufacturing process for a spherical pin includes six major steps. The first step is cutting the wire to length. Using special fixturing, the spherical ends are next machined followed by a soft grind on the outside diameter. The pins are then hardened and tempered to full hardness to achieve the necessary wear resistance. After heat treating the pins are tumbled for deburring and cleaning. The final step included the precision finish grinding of the outer diameter. Each process is done with the exacting controls required to meet rigorous automotive requirements and statistical capability.
At Hartford Technologies, we assist with all levels of the APQP process, from design recommendation, to rapid prototyping, pre-production parts and tooling, and full production. If you would like to learn more about our pins, or our precision specialty balls, customized bearing assemblies, or any of the other products that we offer at Hartford Technologies, contact us today.