A manufacturer's products are only as good as the parts they use. If the parts vary, performance for the whole product will be unpredictable, which can quickly have customers looking for other manufacturers. This is especially true when working with precision ball bearings. Identifying a reliable precision ball bearing manufacturer can be a challenge. Here are some helpful tips:

Defining the "best"
Short lead times, impressive product performance and a willingness to develop custom products are important, but we would argue that quality tops all other criteria. Quality here refers to delivering precision ball bearing assemblies that are exactly the same, from part-to-part and shipment-to-shipment. You know you are working with a top tier precision ball bearing manufacturer when you always know exactly what to expect from each shipment.

Quality is no accident
Variability has many sources. Poorly maintained machinery, fluctuating temperatures and inconsistent working practices are all possible culprits. The best bearing manufacturers tackle these with an obsessive focus on standardization and waste elimination. Processes are documented and compliance demanded. Machines and equipment are cared for, and every deviation screened out and seen as an opportunity for improvement. The best variability safeguards are the ones that are always present but never needed.

Evaluating bearing manufacturers
In searching for evidence of a manufacturer's ability to deliver consistent products we suggest starting with these factors:


Are internal processes clearly defined and well managed?
What resources exist for inspection and dimensional verification?
What material testing is undertaken?
Is there traceability throughout the manufacturing and supply chain process?
Defined processes
The best precision ball bearing manufacturers can demonstrate compliance with relevant quality management systems. They'll have certificates covering ISO 9001, IATF 16949 and perhaps ISO 14001. They'll follow APQP processes for managing product launch and you'll see Work Instructions at every station on the plant floor.

Inspection and verification
While human inspection is still common, the best bearing manufacturers are implementing automated systems. Using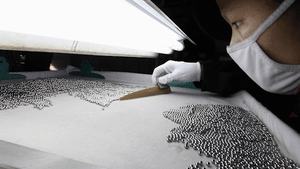 cameras and even X-ray technology, these take an unblinking look at every part and assembly produced. They find any deviation from what's acceptable and provide data for continuous improvement.

Extremely tight tolerances make dimensional verification of bearing components challenging. Look for advanced measurement equipment like coordinate measuring machines, preferably operating in temperature controlled environments.

Material testing
Every precision ball bearing depends on the quality and integrity of the materials used. That's why you should see equipment for tensile and hardness testing, along with optical comparators, surface finish measurement systems and test devices.

Traceability
Traceability means the ability to match finished bearings with the materials and machinery used to make them. Maintaining traceability demands consistent record-keeping and attention to detail, making it another hallmark of a well defined process.

Other factors
After checking off the points above it's time to consider other factors. The ability to develop custom products is one. Not every bearing manufacturer has the resources or willingness to do this but the best will be eager to work with you. Then you might want to consider the ability to develop unique or special manufacturing processes that lower costs and reduce variability.

Sleep easier by partnering with only the best ball bearing manufacturers
The products you make can only be as good as the components you put into them. When every part is the same as the last you have less to worry about and less work for your staff. Working with the best manufacturers will keep many problems at bay, ultimately saving your business time and money.
About Hartford Technologies
From needle bearings to cage bearings and thrust bearings, at Hartford we offer many different standard products. Despite our wide product range though, we believe especially challenging applications can benefit from custom bearing designs. Throughout Hartford Technologies our processes meet and exceed IATF 16949 standards while ISO 9001 and 14001 adherence are a way of life.