The Project
Hartford Technologies has moved into production on a bearing retainer for a large manufacturer of automotive seating. The retainer consists of a polyoxymethylene (POM) plastic injection molded retainer coupled with four high precision chrome steel balls and four rollers.

What Hartford Provided
In the initial stage of the launch, a specially designed assembly machine runs two shifts daily. Hartford Technologies designed and built the robust assembly machine which is destined to run 24h/day, 5-6 days per week. Phase two of the project will bring on a second machine to meet the customer's increasing production schedule.
The state-of-the-art assembly machine installs the necessary hardware; sensors verify all the hardware is present in each finish part. The completed retainers are counted and packed automatically within the machine.
There are three variants of retainer, based on precision ball size. This "select fit" aspect allows maximum flexibility in our custom production process. The fact that the customer can choose the appropriate size retainer as necessary allows them great uptime in their up-stream stamping facility. Their stamping production runs can be increased between regular tooling maintenance intervals.
Retainers are color coded to identify the proper size. Natural is the nominal size ball; red and yellow are larger and smaller, respectively. A bar code system and locked enclosures prevent balls from being mixed. Stringent quality control procedures and SPC monitoring ensure a zero defect production process.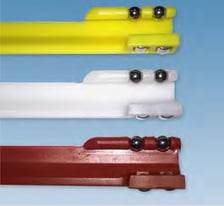 Hartford Technologies has more than eight decades of experience in precision ball and roller manufacturing, and has developed numerous assembly techniques to save costs on retainer assemblies. We provide parts and assemblies for manufacturers worldwide. We also have extensive injection molding experience, and can fabricate functional prototypes from soft tools within weeks. Full production multi-cavity tooling can also be fabricated quickly.
Hartford has manufacturing resources in both the US and China – a distinction that substantially benefits customers who have short lead times and multiple delivery locations. The retainer described here are manufactured in our Shanghai facility for the US market. A similar part for China's automotive market will launch soon. That retainer will also be manufactured on a dedicated assembly line developed by Hartford Technology engineers.
Hartford continues to optimize the assembly process to reduce costs and increase efficiency, for this customer, and for manufacturers worldwide.